Dental Crowns
A dental crown is like a tooth helmet. It is a tooth-shaped cap. A crown is placed on a damaged tooth to reinforce its structure.
Dental crowns may also be used for cosmetic purposes because they can provide an aesthetic cover for a damaged or bad looking tooth. Some tooth discolorations can be fixed with crowns. They are a great solution to modify the width, length, alignment, or shape of a misshapen tooth.
The benefits of using dental crowns include:
Strengthens teeth and bite
Improves chewing capacity
Enhances smile when there is a missing tooth
Your dentist can assess if you would benefit from a dental crown at your check and clean appointments.
Dental Crown Applications
Dental crowns are used as protection for vulnerable teeth or a cosmetic solution. Symptoms that may necessitate a dental crown restoration.
Dental crown applications to protect vulnerable teeth include:
Teeth that have undergove root canal treatment will usually require a dental crown as a permanent restoration.
Dental crowns as cosmetic solutions can enhance the appearance of the tooth. These applications include:
Heavily discolored or misshaped tooth
As a cover for imperfect teeth
To close gaps
To cover uneven teeth
Generations of Dental Crown
Dental crowns are tooth-shaped caps. They provide mechanical protection for the structure of a weak or brittle tooth. Over the past 40 years, dental crown technology has progressed from all-metal (gold crowns) to porcelain fused to metal (PFM), then all-ceramic crowns, and these days CAD/CAM dental crowns.
Quality of Dental Crown
The quality of a dental crown depends on the quality of the fabricate technology and the material used.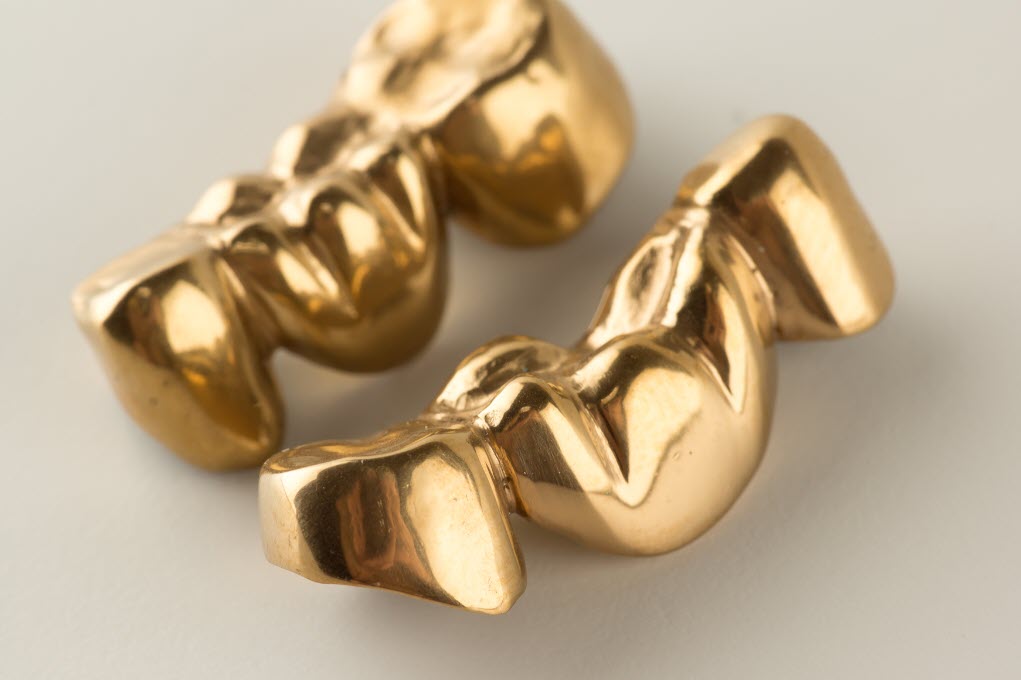 All-Metal Dental Crowns
Metal crowns are often made of gold alloys. They have been used by dentists since the 1900s. All-metal crowns are very kind to the tooth because they require very minimal tooth preparation. Using all-metal crowns conserves more tooth tissue because the metal is quite strong even in thin sections.
Metal crowns are very durable. While these types of dental crowns are fracture-resistant, their application is often limited to the back teeth because of their poorly perceived aesthetics. However, some patients have no concern displaying metal and prefer a long-lasting exceptionally-durable solution that does not crack and is bio-compatible with the gum tissue.
Benefits of all-metal dental crowns:
Gum tissue friendly
Kind to the neighboring teeth
Does not crack
Does not wear away the underlying tooth
Exceptionally durable
Does not require much tooth removal (tooth preparation)
Disadvantages of all-metal dental crowns:
Its color does not blend very well with adjacent teeth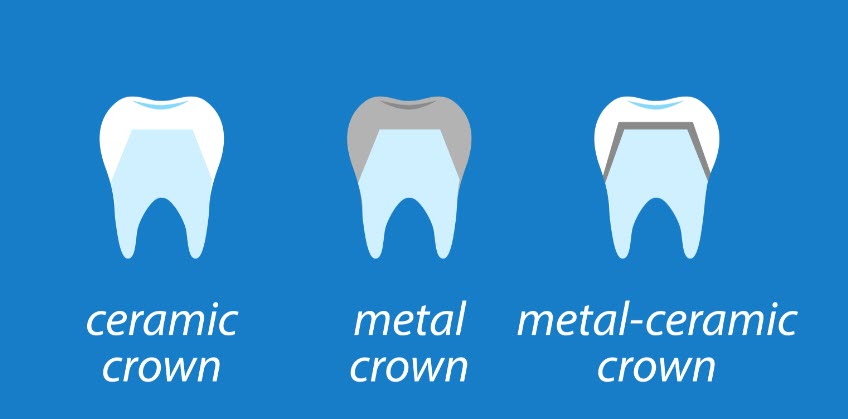 Metal-Ceramic Dental Crowns
Metal-ceramic dental crowns have been used successfully in dentistry for more than four decades. They are clinically reliable in the long term. They are also more tooth-like compared to all-metal crowns because of the overlaying porcelain. However, they are imperfect when it comes to the mimicry of natural teeth. With PFM crowns there is usually a visible dark thin metal margin around the neck of the crown which is not ideal. The demand for more aesthetic solutions is high. Therefore, metal-ceramic crowns are no longer providing satisfaction in cosmetic dentistry.
Porcelain fused to metal crowns (PFM crowns) have been used in dentistry since 1970.  PFM crowns are a compromise between aesthetics and conservation of the tooth tissues. They are strong and are a good solution for patients with bruxism.
Metal-ceramic materials are being replaced with all-ceramic restorative materials because they mimic natural teeth better and offer a great chance in matching the appearance of the adjacent teeth particularly when a high degree of translucency is desired.
PFM crowns may look odd if used for the front teeth because the underlying metal in the crown does not allow light to pass through the tooth and makes the tooth look opaque. When PFM crowns are used on front teeth, the internal metal coping of the crown causes graying of the gum and a dark line will be visible if there is a gum recession.
All-Ceramic Dental Crowns
All-ceramic crowns are tooth-colored metal-free restorations. They are among the most aesthetic tooth restoration options. The properties of porcelain allow these crowns to easily blend with natural teeth.
All-porcelain dental crowns (zirconia or e.max) offer high strength and optic properties similar to the tooth enamel. The demand for all-ceramic crowns is rising and they are increasingly being used for the restoration of both the front and back teeth because of their outstanding clinical, physical, optical, and mechanical properties.
When all-ceramic crowns are used with tooth-colored post and core materials their aesthetics are far superior compared to the metal-ceramic crowns.
The advantages of all-ceramic dental crowns include:
Aesthetic outcomes
Biocompatibility
Durability
Disadvantages and complications:
Relatively higher cost compared to metal-ceramic crowns
Chipping, fissuring, and fracture when used for the back teeth
Unpredictable in terms of longevity
Compared to single-tooth restoration, dental bridges are more subject to fractures. The fragility of the all-ceramic crowns is usually a matter of concern.
The aesthetic advantage of all-ceramic crowns to metal-ceramic crowns is most evident in the marginal areas closest to the soft tissues and at the incisal edge where more translucency is usually desired.
Ceramic materials:
Feldspathic ceramics
Lithium disilicate ceramics
Veneered zirconia
Monolithic zirconia
Mechanical resistance of all-ceramic dental crowns depends on the:
Design of the preparation
Material thickness
Restorative material used
The most common challenge associated with the all-ceramic restorations is the fracture of the veneering porcelain or its substructure.
Zirconia Crowns
Zirconia is mainly used as a framework for the all-ceramic crowns. Zirconia crowns are widely used by Brisbane Dentists Puredentistry.com.au and other dental clinics but they have poor translucency therefore they usually require feldspar ceramic veneering to provide high opacity and obtain a high aesthetic look.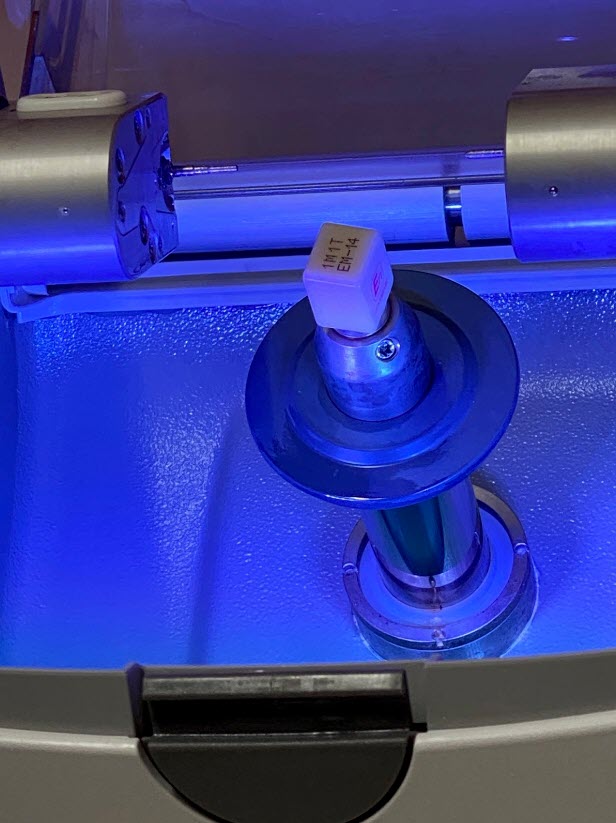 Milled Ceramics and CAD/CAM Restorations
CAD/CAM crowns can be fabricated in the dental clinic with a turnaround of a few hours. Over the past decades, the use of ceramics in tooth restoration has rapidly progressed from traditional feldspathic porcelain to the application of modern dental ceramics with enhanced mechanical strength and aesthetics. The application of the CAD/CAM technology is the latest trend in restorative dentistry.
With CAD/CAM restorations, a 3D scanner is used to scan the mouth and the size of the tooth. A high-technology 3D device is then used to fabricate a dental crown. This technique alleviates the need for a temporary dental crown. In other words, with CAD/CAM, no temporary crown is required which minimized the required number of dental visits for the patient.
All-ceramic CAD/CAM tooth restoration technology is experiencing well-deserved popularity and a rise between the dentists and patients. Today, there is a diverse type of milled ceramics available in the market. The dilemma with the all-ceramic restorations is that no material is suitable for all clinical applications.
More and more dentists are using CAD/CAM technology to fabricate dental crowns in their dental practice. Dental crown material manufacturers are on the other hand improving the quality of their materials. Suitable material selection requires a good understanding of the aesthetic and mechanical resistance properties of each material.
According to Brisbane kids dentist, time is important when working with children. Stainless steel dental crowns or SS crowns are great solutions for the restoration of teeth in kids because they can be fitted in less time than would be needed to complete multi-surface fillings.
These days prefabricated tooth-shaped stainless steel dental crowns are used for:
Long-term coverage of primary molar teeth in kids
long -term provisional coverage of permanent teeth
The benefits of SS crowns include:
Reliable and excellent long-term performance
Can be fitted quicker than multi-surface fillings
Economical
Gum-tissue-friendly
Patient comfort
Does not jeopardize future treatment plans
These crowns are prefabricated in different sizes. Because the shape and morphology of primary molars are quite different from a permanent molar. Their realistic anatomical shape means that they require minimal preparation to obtain good retention. SS crowns do not compromise the gingival health. These crowns are known to be comfortable and gum-friendly.
SS crowns are used for children:
CAD/CAM Restorative Material used in Dental Practice

CAD/CAM restorative material categories include:
Adhesive Ceramic
High Strength Ceramic
Resilient Ceramic
Composite Resin
Zirconia
Each material offers unique properties and has a specific clinical application.
Adhesive Ceramic
The first millable material developed for CAD/CAM dentistry was adhesive ceramics. Adhesive ceramic includes a significant amount of glass which results in a high translucency in the restorative material.
Adhesive ceramic materials:
Vitablocs Mark II, a feldspathic glass by Vita Zahnfabrik
CEREC Blocks, a feldspathic glass by Dentsply Sirona
IPS Empress CAD, a leucite-reinforced glass by Ivoclar Vivadent
Composite Resin
Composite resin has not been very common in dental clinic CAD/CAM applications, however, with the recent progress in the CAD/CAM technology they are increasingly being used.
Paradigm MZ100 a Bis-GMA composite by 3M
Brilliant Crios a Bis-GMA composite by Coltene/Whaledent
Resilient Ceramic
Less brittleness and higher fracture resistance are two of the main properties of resilient ceramic materials. Resilient ceramic is less dense than ceramics which means less margin chipping during milling.
Lava Ultimate a nanoceramic by 3M
Cerasmart a nanoceramic by GC America
Enamic a hybrid ceramic (PICN) by Vita Zahnfabrik
High-Strength Ceramic
With the enhancements in the strength of the ceramic materials, important progress took place in the CAD/CAM technology.
IPS e.max CAD a lithium disilicate by Ivoclar Vivadent
Celtra Duo, a zirconia-reinforced lithium silicate (pre-crystallized) by Dentsply Sirona
The use of high-strength ceramic materials is quite popular among Brisbane dentists because of improved strength and good transparency.
Zirconia for Dental Practice CAD/CAM Restorations
Full-contour zirconia is the most recent material for in-office CAD/CAM restoration. It also has the highest likelihood of experiencing the most amount of further developments.
CEREC Zirconia a presintered zirconia by Dentsply Sirona
e.max ZirCAD a presintered zirconia by Ivoclar Vivadent
Katana Zirconia a presintered zirconia by Kuraray Noritake Dental
Vitreous ceramics are inorganic materials. These ceramics contain silica. Silica is a natural compound and is often recognized in the form of quartz. Approximately 60% of the earth's crust is made of silica. Silicon dioxide (or silica) is found naturally in many plants, food, and even in the tissues of the human body. The fact that silica is found in plant tissues and drinking water suggests that silica is safe.
Feldspathic Ceramics
Feldspathic or glassy ceramics are porcelains that showcase remarkable aesthetic restorations. They are the most aesthetic but weakest of the ceramic materials used in dental restorations. Feldspathic restorations are primarily used for the fabrication of dental veneers on either alloy or ceramic cores. They are also used as dental crowns for the front teeth.
The mechanical properties of the feldspathic ceramics are relatively weak. Therefore, Feldspathic ceramics are usually not suitable for the restoration of the back teeth because their strength is limited and cannot handle large forces.
Advantages of feldspathic ceramics:
Deliver good aesthetics
The most commonly used material for veneer restorations
Can be rather thin, allowing for conservative restorations
Feldspathic dental veneers are highly aesthetic, they provide great color control and require minimal tooth reduction.
Disadvantages of feldspathic ceramics:
Limited by their relatively low strength
IPS e.max
IPS e.max is a reliable and aesthetic all-ceramic dental crown. It is the most frequently used all-ceramic system. It is 2 to 3 times stronger than glass-ceramics. IPs e.max was introduced in 2006. It has been around for more than a decade. Because of its properties, it has been enjoying a lot of popularity among CAD/CAM dentists.
The reliability of IPS e.max has been confirmed in multiple studies and they can remain intact for many years.
IPS e.max has two types of material:
IPS e.max CAD
IPS e.max ZirCAD
IPS e.max CAD is a lithium disilicate glass-ceramic that can be used for highly aesthetic dental restorations. These blocks can be fabricated to dental crowns using computer-aided design and manufacturing technology (CAD/CAM). These blocks can be used for various tooth restorations including dental veneers and 3 unit dental bridges. It is the world's most popular and best-selling glass-ceramic.
IPS e.max CAD is usually used for:
Dental crowns
Abutment crowns
3-unit bridges up to the second premolar as the final abutment
Inlays
Onlays
IPS e.max ZirCAD is usually used for:
Dental Crowns
Three-unit bridges
Stainless Steel Dental Crowns
SS Crowns: Treatment of Choice for Primary Molars
Stainless steel crowns are reliable tooth restoration solutions. They are quite popular in pediatric dentistry. The reason for this popularity is that, compared to amalgam restorations, they require significantly less follow up treatments. This is an important consideration in children's dentistry because young children are typically not very cooperative during dental procedures.
SS crowns have a longer life span and less requirement for replacement. This means that the durability of the SS crown saves children from frequent dental visits.
Composite Crown for Kids
In recent years, with the invention of the fiber-reinforced composite resins, the use of composite resin for the restoration of the back teeth has increased because fiber-reinforcement adds to the load-bearing capacity of the molar crowns.
The advantage of fiber-reinforced composite resins:
Translucency
High bonding strength
Ease of repair
How Long Do Dental Crowns Last?
Nothing lasts forever. Dental crowns are not an exception. They are still subject to fractures and cavities. Therefore, oral health maintenance is required. To minimize the risk of dental decay or gum disease around the dental crowns, you can:
Attend your regular six-monthly dental checkup and clean
Use remineralizing toothpaste
Proper brushing and flossing
To prevent chips in dental crowns, try to avoid chewing on hard food e.g. avoid chewing ice, pork crackling.
Dental Crown Cost in Australia
Quality dental crowns are not cheap. The price for a single dental crown can roughly range between $990 to $1800. The cost of dental crowns can vary depending on the material used. The cost is also tooth-specific because each dental crown should be tailored to fit a specific tooth. The treatment can me made more affordable if using dentists with a payment plan option. see Brisbane AfterPay Dentist Pure Dentistry.